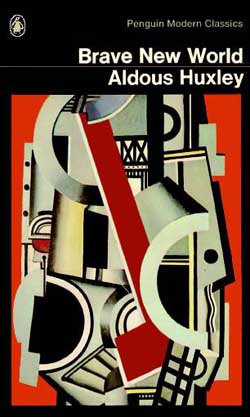 I don't normally read novels for
Twitter Book Club
, I usually read education related books. In fact, the only other non-education text I've read for TBC so far was
E. M. Forster's (1909) The Machine Stops.

Both Brave New World and The Machine Stops are distopian visions of our future and somewhat similar. Where Forster feared future man would place their faith in a grand machine, Huxley feared we would place our faith in industrialized production and consumption. Both stories have great relevance for education and both seem to be looking on our time (or our near future time) saying "I told you so." I highly encourage you to read Brave New World through the lens of what we are doing to public education today with common core curriculum, mood and behavior altering drugs, mindless entertainment, glorification of ignorance (both in entertainment and in politics), tracking students by age and ability, the roles of science & religion in education, etc.

This book didn't lend itself very well to my normal TBC method. There really were not very many quotable quotes. Most of the best stuff in this novel is situational and not very well represented in 140 characters (even with Twitlonger). Therefore, I've abandoned my normal routine of archiving by chapter. What follows are the few tweetable passages that really grabbed my attention:


Isn't this what lies at the heart of the
Common Core
movement? Social stability by creating standard men and women? Of course, to have this view you must also see students as "adults in training" and the purpose of education as preparation for the future, not preparation for the now.
Project Lead The Way
. While I am a huge supporter of project-based learning, PLTW is kind of like the fast food version of PBL, what
Gary Stager refers to as Ed Reform TM
. While on one hand, PLTW is helping to introduce more constructivist pedagogies in places where they are not as likely to be tried, it does so in a very watered-down fashion. It also does so for reasons that completely echo this quote from Huxley. If you aren't familiar with PLTW, it is a scripted STEM curriculum written and funded by corporations for the explicitly stated purpose of getting young people excited about careers that these corporations project will be in high need in the near future. While student needs and corporate needs can sometimes be in conjunction they can also sometimes be in opposition. Either way, this kind of curriculum can only be described as conditioning. You have to ask yourself, is this OK?
"Alpha children wear grey. They work much harder than we do, because they're frightfully clever. I'm really awfully glad I'm a Beta, because I don't work so hard. And then we are so much better than the Gammas and Deltas. Gammas are stupid. They all wear green, and Delta children wear khaki. Oh no, I don't want to play with Delta children. And Epsilons are still worse." Huxley
This passage from Brave New World reminds me of this article I read this week
http://www.guardian.co.uk/education/2011/jul/25/secondary-school-streaming
It is amazing how soon we seem to forget our past, even our recent past. That is why we need people like Ira Socol and Diane Ravitch. We need to be constantly reminded of our past and view present and future endeavors through a historical lens. I know it's a cliche but that doesn't make it any less true that, "Those who do not know history are doomed to repeat it."
This reminds me of this TED Talk about "filter bubbles:"